Land Secured for Wolgan Valley's New Emergency Shelter
After many months of searching, land has finally been secured for the construction of the new Wolgan Valley Emergency Shelter and Community Centre. 
The Wolgan Valley Association would like to take this opportunity to acknowledge and thank the Howard family for their extraordinary generosity in donating the site for the Centre. The Howard family have offered the Association 2 hectares of land carved out of their holding beneath Donkey Mountain. It is a spectacular site with 360-degree views taking in Donkey Mountain, Wolgan Rock and the north-western escarpment all the way around to Chimera Point, above Penrose. The location is in the centre of Wolgan Valley on formerly grazed paddock offering both good accessibility as well as protection and emergency shelter in the event of a natural disaster including bushfire or flood.
It is also ideally situated for community activities as well as a base for teaching and environmental conservation initiatives, overlooking the Barton Creek wetland.
There will be further opportunities to thank the Howard family as the project progresses.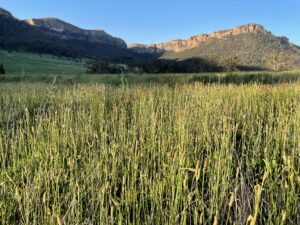 Image: View across the site of the proposed Wolgan Valley Emergency Shelter and Community Centre toward Chimera Point, Wolgan Valley.