In Wolgan Valley, we proudly embrace a Leave No Trace philosophy. As a destination, we are committed to the principles of sustainable, responsible and regenerative tourism. Many of our accommodation providers and tourism operators have the highest level of eco-certified accreditation and are recognised nationally as sustainability leaders by Tourism Australia.
Wolgan Valley is still wild and untouched compared to other destinations in the Greater Blue Mountains region — and we want to keep it that way.
Help us look after Wolgan Valley for future generations by respecting the natural and cultural heritage of this special place, and the community and traditional owners that call it home.
Enjoy your stay and please follow these guidelines when you are staying at any camping grounds in Wolgan Valley:
only camp in designated areas so the bushland isn't disturbed
make sure you keep your vehicle on formal roads and marked vehicle tracks
avoid camping in revegetation areas, including areas that have been affected by bushfires
only have campfires in designated areas — and please bring your own kindling and firewood. Leave rocks and fallen timber in the surrounding bushland and our roadside reserves as they provide important habitat for our local wildlife
take your rubbish and recycling with you — there is a waste station at Angus Place on Wolgan Road if you don't wish to take it all the way home
please use the toilets provided or use your own portable toilets — an RV dump point is available at Lake Wallace Barton Avenue, Wallerawang and George Coates Avenue, Lithgow.
When you are in Wolgan Valley, always remember that you are walking on Wiradjuri Country. We ask that you respect the cultural significance of this Country and the connection of Wiradjuri People to this land by practicing Yindyamarra – respect, be gentle, be polite and do slowly.
Please don't touch rock art and do not remove any cultural items or artefacts.
You can help care for our valley's wildlife by following these guidelines:
do not feed wildlife as it can make them ill or encourage aggressive behaviour

please do not touch or approach native wildlife — give them their space

remember that dogs and cats are not allowed to be taken into NSW national parks and state conservation areas

when driving along Wolgan Road, take particular care at dawn, dusk and night time when wildlife is most active. If you slow down and drive to conditions it will lessen the likelihood of you hitting wildlife on our roads
Be considerate of our community and other visitors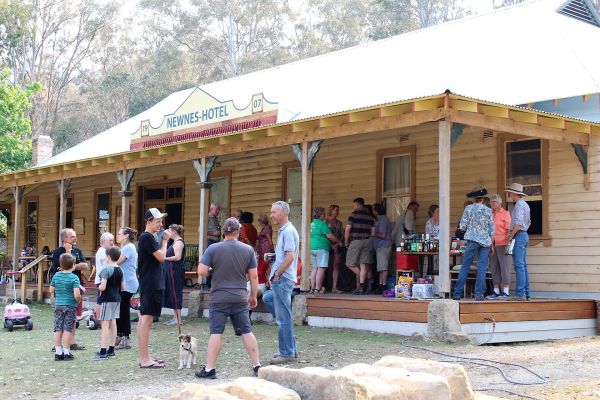 When visiting Wolgan Valley be considerate of the community, traditional owners and other visitors:
only access places and trails that are open to the public or where permission has been sought from the property holder. 

acknowledge that all areas have cultural values, respect the traditional owners and their responsibility to care for country

be courteous and give way to others on tracks and roads

enjoy the peace and serenity of the valley. Keep noise to a minimum and talk quietly among yourselves

acknowledging and respecting local knowledge will ensure that you have a safe and enjoyable time in the valley
Your safety is important to us
COVID safety
All businesses in Wolgan Valley are committed to following COVID-19 safety guidelines. Please follow the latest COVID-19 rules and if you have any COVID-19 symptoms, please stay home and get tested.
While Wolgan Valley may look lush and green, it is still regenerating and recovering from the 2019–2020 bushfires. We ask that you follow these bushfire safety guidelines:
never throw cigarette butts on the ground or from vehicles — they can smoulder for hours and cause bushfires (be aware that smoking is prohibited in all NSW national parks)
please only have campfires in designated areas, never leave a campfire unattended, and make sure your campfire is properly extinguished with water
before you have a campfire, check the NSW National Parks and Wildlife website to see if any fire bans are in place
if you see fire or smoke that isn't attended by a landholder or firefighters, please phone 000 or drop in and notify the resident of the nearest property.