Are you looking for a wild adventure? Or a chance to switch off and experience nature's beauty?
There are so many things to do in Wollemi National Park, Gardens of Stone National Park, Gardens of Stone State Conservation Area and the whole of Wolgan Valley.
Discover the Newnes Glow Worm Tunnel walk and the 2.5km Newnes Industrial Ruins walk in Wollemi National Park. Or for experienced bushwalkers, you can challenge yourself to climbing Wolgan Valley's iconic Donkey Mountain in Gardens of Stone National Park and explore its ancient rock pagodas, canyons and caves.
The Mystery Mountain Climb and Pipeline Track from Newnes are also popular with experienced bushwalkers. Pop into the Newnes Hotel to pick up essential track notes for a self-guided adventure. If you're after a more personalised experience, Wolgan Valley Eco Tours offers a range of fully guided bushwalks for beginners to the more experienced.
Looking for bushwalking guidebooks? Bush Explorers has published some excellent guidebooks for bushwalking in Wollemi National Park and Gardens of Stone National Park, and the newly created Gardens of Stone State Conservation Area. You can buy them online or at the Lithgow Visitor Information Centre
Wildlife and birdwatching
Keep an eye out for native animals like the Eastern Grey Kangaroo, Red-necked Wallaby, Wallaroo and Bare-nosed Wombat. And if you're lucky, you'll be able to spot some of our rarer species, like the Brush-tailed Rock Wallaby, Spotted-tailed Quoll and Greater Glider.
Birdwatchers and 'twitchers' will also be delighted by more than 150 species of bird, including the critically endangered Regent Honeyeater, Superb Lyrebird, Gang-gang Cockatoo, Glossy-black Cockatoo, Powerful Owl and Wedge-tailed Eagle. Book a wildlife or birdwatching tour with the expert guides at Wolgan Valley Eco Tours.
Maiyingu Marragu (The Hands) Aboriginal Place
Maiyingu Marragu is a significant place for the Wiradjuri people, featuring a rock wall with ancient rock art dating back 13,000 years. Featuring incredible stencil art, this continues to be an important meeting and educational place for the Traditional Custodians of this land. You can visit this special place on a cultural tour with Mingaan Wiradjuri Aboriginal Corporation.
The historic Newnes Hotel is now a fascinating museum and information kiosk. The Newnes Hotel was built in 1907, and is the only intact building from the historic mining town of Newnes. It was originally built on the banks of the Wolgan River, but was relocated across the road to higher ground in 1986 when flooding threatened the building. Drop in for a visit and discover more about this fascinating heritage and history.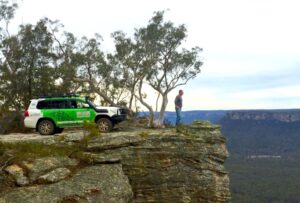 Scenic drives and 4WD adventures
The Wolgan Valley Discovery Trail scenic drive is one of the 18 Greater Blue Mountains Discovery Trails, and it is one of the most spectacular. This drive winds down the mighty Wolgan Valley to the historic Newnes industrial area in Wollemi National Park.
For 4WD enthusiasts, the Maiyingu Marragu Trail (also known as Blackfellows Hands Trail) is a popular adventure travelling up to the Newnes Plateau. The Baal Bone track (otherwise known as the Ben Bullen trail) is another popular 4WD track, which meanders through Gardens of Stone National Park with views over the Wolgan and Capertee Valleys. Simmo's Offroad Tours offer unforgettable private and tag-along 4WD tours.
Rock climbing and canyoning
Wolgan Valley is a popular rock-climbing destination, with numerous crags catering for all types of climbing, including sports routes and multi-pitch climbs. There are also several dry and wet canyoning sites, including Pipeline Canyon, Devils Pinch Canyon, Newnes (Starlight) Canyon and Firefly Canyon, which are all accessed via Newnes.
If you're not an experienced rock climber or canyoner, for your safety it is recommended you go with an experienced group or accredited operator. The Blue Mountains Adventure Company and Blue Mountains Climbing School both offer fully guided canyoning and climbing adventures.
Wolgan River and Carne Creek
After a day of exploring, you can relax and dip your feet in the pristine cool waters of Wolgan River and Carne Creek. Wolgan River can be accessed at the start of the Glow Worm Tunnel Trail on Wolgan Road, and also at Newnes, which is a top spot for wallowing in the water or liloing. Carne Creek can only be accessed via Newnes Plateau in Gardens of Stone National Park and Gardens of Stone State Conservation Area.
Glow Worm Tunnel Marathon
The Glow Worm Tunnel Marathon is held in June each year. The course starts and finishes at Newnes, taking runners on a journey through creek crossings, old mine cuttings and ruins, along cliff lines and through the Glow Worm Tunnel itself.